You start losing your smile and feeling like you have no reason to live when you become a slave to the same kind of life. Living your life the same way for twenty years isn't living. It is the recipe for losing your life's sparkle!
Life has so many experiences that will make your heart beat faster and your skin to glow. All you need to do is step out of your comfort zone. Feast on this beautiful life.
Stepping outside of your comfort zone is scary and uncomfortable.  When you are in a comfort zone, you feel at ease and in control of your environment. You experience low levels of anxiety and stress.
We all have a comfort zone where we feel safe and warm. But every now and then you need to step outside and be challenged. Be frightened.  Be stimulated.
It's this way that you stay young and feel good about yourself.
If we grow too attached to our comfort zones, chances are that it will either start to shrink or something will come along and destroy our comfortable bubble.
Moving away from your comfort zone makes you feel good about yourself. It gives extra confidence. And the best bit of it is that you can do it step by step.
This might be as simple as taking up a volunteer position abroad or taking up a new sport or hobby. It could be doing something alone that you've only been doing in the company of others before or speaking up in a public forum.
We impose a lot of restrictions on ourselves that limit us, hold us back. We think we couldn't do that, wouldn't feel happy with that. Taking the challenge of moving out of your comfort zone keeps you learning and growing.
The science of breaking out of your comfort zone                                        
Your comfort zone is a behavioural space where your activities and behaviours fit a routine and pattern that minimizes stress and risk. It provides a state of mental security.
In order to maximize our performance, however, we need to create a state of relative anxiety- a space where our stress levels are slightly higher than normal. This space is called "optimum anxiety", and it's just outside our comfort zone. Too much anxiety and we're too stressed to be productive, and our performance drops off sharply.
Tips that will help you get out of that comfort zone
1. Do small activities that will challenge you.
Most people could be stuck in their comfort zones simply because they are not willing to do activities that will challenge them.
Try something that you haven't done before and especially one that is challenging.
I recently replaced going out on Friday nights with ice skating. I had never tried skating before. I thought it would be scary and I would lose my teeth in the process. It turns out, I am very good at skating and the sport is not dangerous at all. At least I can report I haven't lost any of my teeth!
What are you scared of trying? Go and do it! You will have more confidence especially if you overcome the challenge. Gradually, this will help you get out of your comfort zone
2. Turn it into a learning experience.
Forget about the discomfort and start asking yourself questions such as; what I'm I learning from this? What I'm I doing to influence other people that will help them?
When you get to know that whatever you are doing will make you a better person you will not be uncomfortable with stepping out of your comfort zone.
3. Coach yourself
You can put yourself in the spirit of a coach and behave like one.
I have always wanted to adopt an exercise routine that wasn't going to cost me a lot of money. I got inspiration from Haruki Murakami's little book What I Talk About When I Talk About Running.  It turned me into my own running coach as I learned to observe my breathing, maintain a certain pace as I run, record my thoughts and most important, journal about my progress.
You can do the same! Pick a challenge, read about it from an expert, then coach yourself throughout the process.  Don't forget to award yourself when you achieve something that you did out of discomfort.
4. Become familiar with discomfort
Pick something that scares you each day then go ahead and do it.
The whole idea of stepping out of your comfort zone is being uncomfortable. So when you familiarize yourself with discomfort by doing things that scare you, you will find it easy to step out of your comfort zone when the need arises.
It will become normal to do hard things!
Trying new things is difficult. If breaking out of your comfort zone was easy, we'd do it all the time.
Why you should get out of your comfort zone
1. Helps you perform at your peak
Stepping outside your comfort zone can be an important factor in personal growth.
There is no way you are going to evolve in your career and other areas in life if you stick to one habit and routine.
Reaching new heights involves the risk of attempting something we might not succeed at. Psychologists say that a little anxiety actually helps us perform at our peak!
2. You experience growth when we step out of our comfort zone
When you were a child you were a natural risk taker.
But as you grow older and learn to fear failure, you start holding yourself back and attempting fewer new things.
Fear of failure is an obstacle to growth. So when you stop fearing failure and step out of your comfort zone you will eventually experience growth.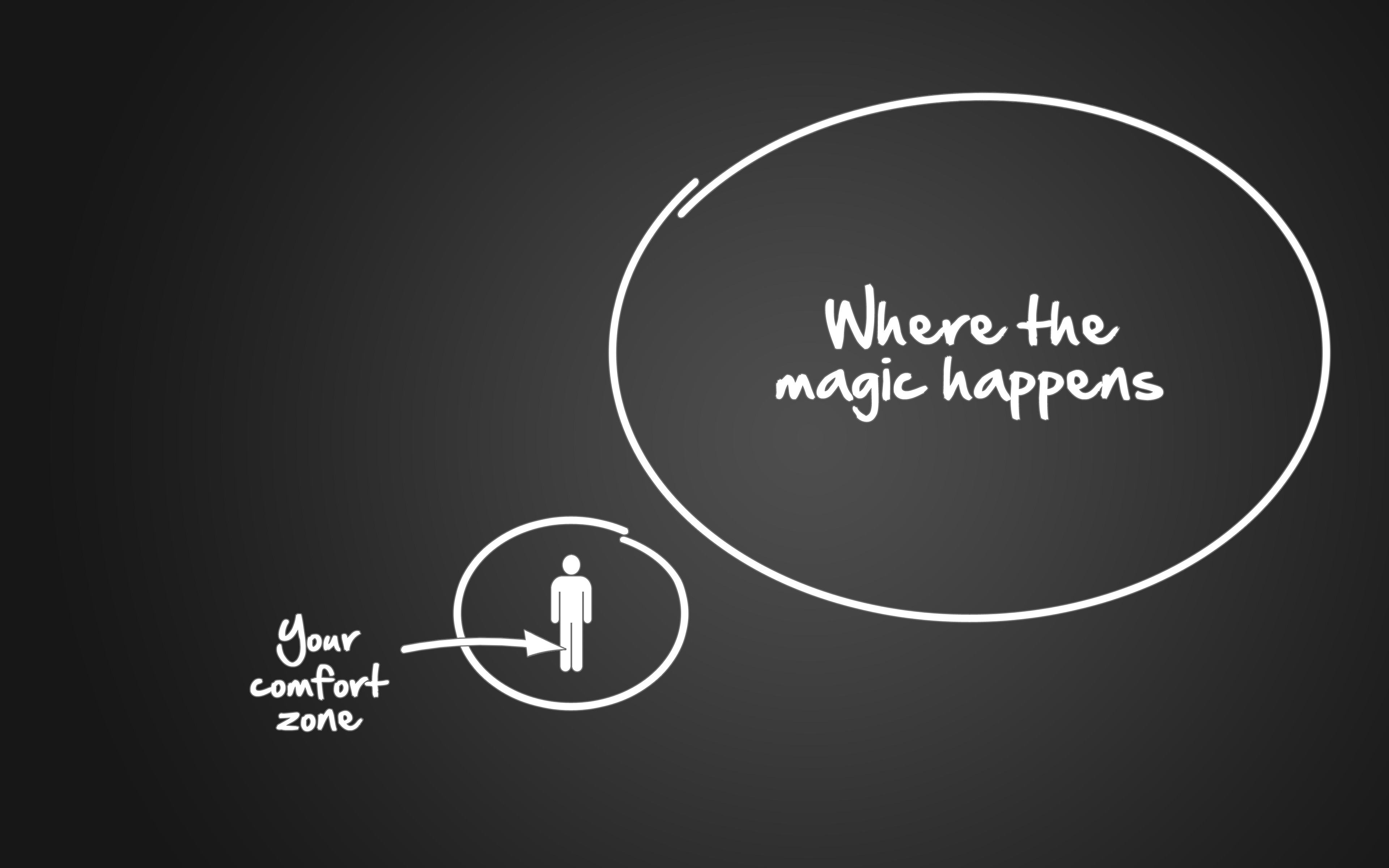 3. Creativity is innately risky
Creativity and Innovation are the most sort-after skills in the workplace.
You are a creative person. When you share creative work you open yourself up to vulnerability and possible rejection.
At the same time, risking failure increases the possibility of great creative achievement and learning.
Stepping out of your comfort zone once makes it easier and more likely that you will do it again. Have something creative that you've always wanted to do? Go ahead and do it.
Setting up this blog and writing on a  regular basis is my way of getting my comfort zone and beating procrastination. You can do it too!
4. Helps you age better
Embracing new challenges can help you age better.
Your comfort zones tend to shrink as you get older –but if you can keep expanding them you'll open yourself up to greater fulfilment and improved well-being as you age.
If you break out of your comfort zones, you will also learn and be wiser! Wisdom is a life hack-accumulate it!
Benefits of stepping out of your comfort zone
It makes you more productive
Breaking out of your comfort zone means taking up new projects and challenges. This will automatically make you more productive as you work towards achieving the new goals.
You will have an easier time dealing with unexpected changes

Life is not constant. Your best friend will move abroad, your job will move to a new continent, your siblings will get jobs in new cities. You will have an easy time dealing with such unexpected changes if you're used to stepping out of your comfort zone.

Your mindset will have changed and you might actually find change exciting! Change should be exciting.

It makes it easier for you to push your boundaries in the future

When you make stepping out of your comfort zone a habit, you will not have problems pushing your boundaries in the future when the need arises.
Why it is important to go back to your comfort zone from time to time
You can't leave outside your comfort zone all the time. You need to come back from time to time to process your experiences.
The last thing you want is for new and interesting activities to quickly become commonplace and boring. Hedonistic adaption is the natural tendency to be impressed by new things only to have the incredible become ordinary after a short time. In one way it drives us forward but in another, it keeps us from appreciating the everyday simple joys.
Still afraid of taking this bold step towards your best life? Read this article on how to overcome your fear of failure.
https://www.youtube.com/watch?v=LBvHI1awWaI